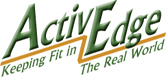 218-393-8767
P.O. Box 702
Superior WI 54880
ABOUT JAY


Jay L. Tapper is President of ActivEdge, LLC. Jay earned a Masters Degree from The College of St. Scholastica in Psychology of Aging with an emphasis in exercise and aging. Jay is a Certified Personal Trainer and Corrective Exercise Specialist through The National Association of Sports Medicine (NASM). In addition he also holds an Ergonomic Technician certification through The National Association of Safety Professionals (NASP).
MY STORY
I have a habit of starting new businesses. ActivEdge, LCC will be number four.
After graduating from Mankato State University I spent five years as a manager/exercise instructor at a health club in Duluth, MN.. It was there I learned how vital a business background would be working in the exercise field . My interest in exercise and aging prompted me to return to school to get my Masters Degree in Psychology of Aging at the College of Saint Scholastica, Duluth, MN . Their flexible curriculum allowed me to learn more about the physiological and psychological effects of aging. My thesis was "The Effects of Exercise on Happiness and Self-esteem in Older Adults."
During this time I started Joint Ventures Fitness Company. I called it a non-profit because I never made a profit. I taught elderhostel classes, gave exercise programs at senior centers and apartment complexes, usually just passing the hat. I completed my first exercise manual on stretching and sold all I could afford to print.
My first professional break came a few years later when I was hired by St. Luke's Hospital, Duluth, MN to be their Sports Medicine Coordinator and to work with Dr. Varick Olson on a pilot program called Mt. Royal Pines/St Luke's Hospital P.T. and Fitness Center. It was the first program in the Twin Ports to put physical therapy and a fitness center in a state of the art senior apartment building. During this time I gained valuable experience in operating a satellite clinic, not to mention working with older adults physical fitness programs.
Working with Dr. Olson, who became my mentor and friend, I was exposed to the world of health care, exercise research, and thinking out of the box. (See Dr. Olson's contribution to this site).
As I worked at St. Luke's, Joint Ventures fell by the wayside. In the early 1990's I left St. Luke's and with a partner started the Center for Muscle & Joint Therapy, Inc. Superior, WI. It was an outpatient physical therapy clinic. I was co-owner and Clinic Administrator. I learned much about business administration, exercise and began to develop corporate safety programs.
For fun I started Aging Adventures, Inc.. Aging Adventures really did not have a function. I liked the name, but apparently I was the only one! I brought some property in Seeley, WI and purchased it under Aging Adventures, Inc., so Aging Adventures really had nothing to do with exercise but a lot to do with real estate, at least for the short term.
In December of 2007 Center for Muscle & Joint Therapy was destroyed by a fire, sixteen years up in smoke. So now at the age of 54 I am starting over. I revamped Aging Adventures, now ActivEdge, with a focus on safety and fitness programs for business and industry, personal training and home exercise equipment sales and look forward to my next 54.