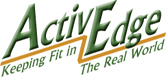 218-393-8767
P.O. Box 702
Superior WI 54880
What is ActivEdge? Merriam-Webster Dictionary defines the word Edge as: "An advantage or favorable margin" and that is exactly what ActivEdge is all about, giving you the Edge in everything you do by keeping you physically ACTIVE.

What does ActivEdge offer?

CORPORATE SAFETY AND FITNESS PROGRAMS:
The workplace is a great place to exercise. Exercise at work offsets the negative impact of prolonged positions and repetitive motions. Employees are more productive, have less chance of being injured, and are healthier. Employers reap the benefits of offering a health benefit to their employees and reduce the risk of worker compensation claims. It's a great way to reduce workers compensation costs and lower the experience modifier.

PERSONAL TRAINING PROGRAMS:

Personal Training Programs are a great way to motivate and educate people on what they need to do to meet their fitness goals. I always tell my clients that no matter what their interests , (hunting, ATV, fishing, team sports, paddling, skiing, biking, running) a certain level of fitness is necessary to accomplish their goals and to continue to participate in the activities they enjoy, through their life span. My philosophy is that you can develop a great exercise program with a minimum amount of exercise equipment. Keep it basic, keep it simple.
I got into exercise equipment sales quite by accident, let me rephrase that, exercise toys sales quite by accident. They are simple pieces of exercise apparatus that can make your exercise program challenging and more fun. Please check out the hiking poles, they are a great way to increase your fitness level especially if you are a walker.