Archives
August 2011
ActivEdge donates two personal training sessions and two Black Diamond headlamps to Cable Natural History Museum fund raiser.
---
ActivEdge has contracted with Xcel Energy for February-March to provide Safety Services for Fleet/Material Departments for Minnesota, North Dakota and South Dakota.
"Xcel is a pioneer in safety services for their employees" ~Jay
---
---
First Annual BirkieTour Attracts Over 550 Participants
---
Jay Tapper member of American Society of Safety Engineers

---
Article taken from the BIRCH SCROLL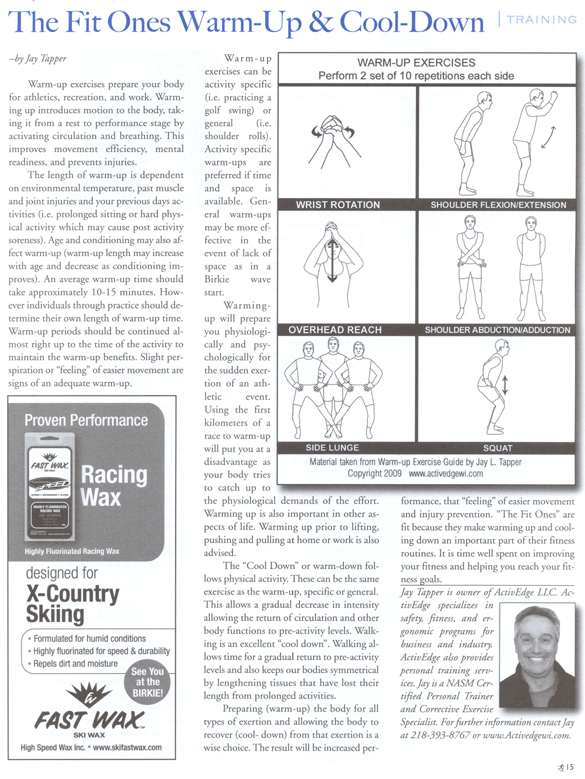 ---
Article taken from ShopTalk

Arrowhead Manufacturers & Fabricators Association
Magazine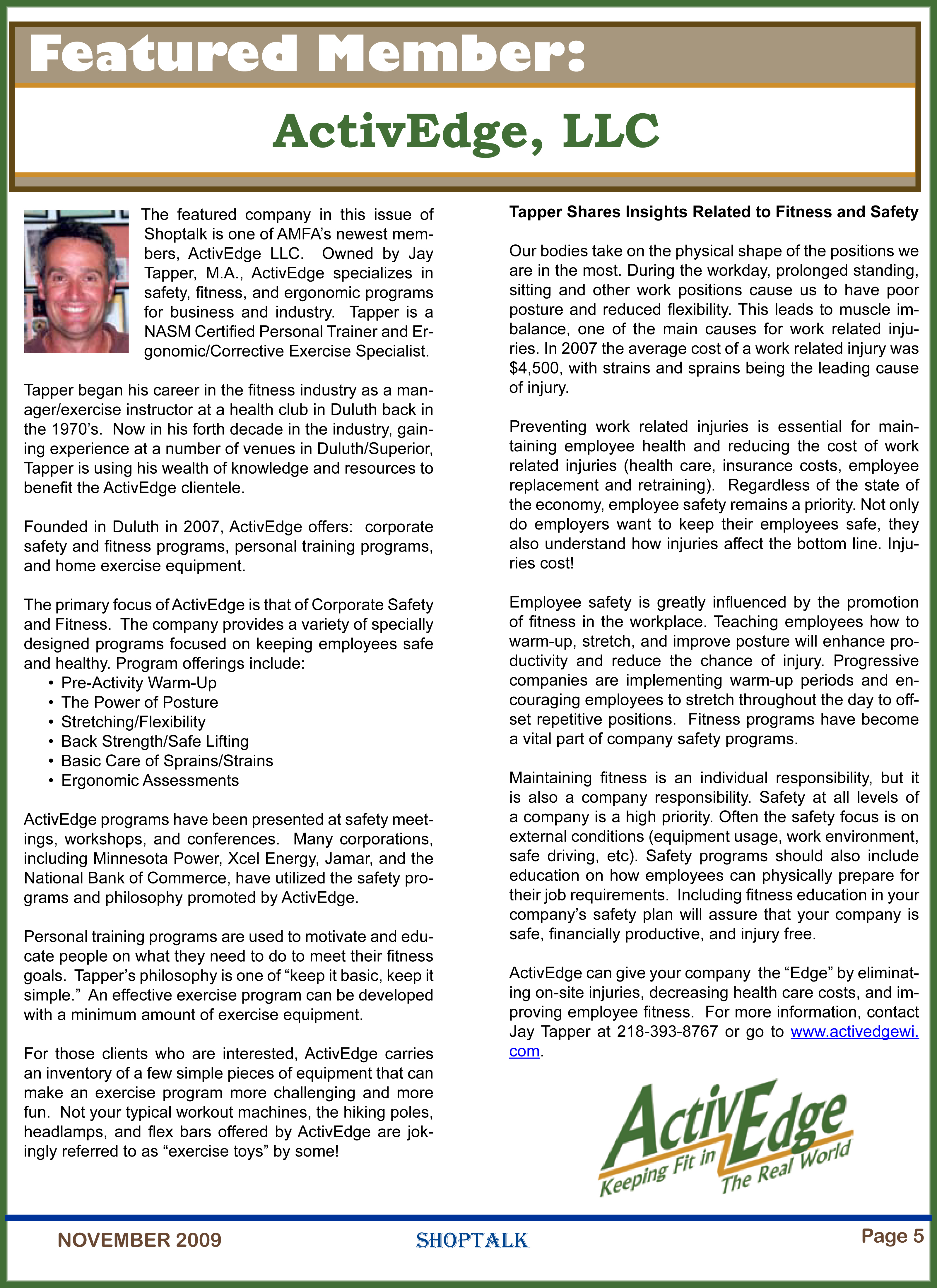 2nd Annual ActivEdge CXC/Birkie Clinic and 350 Campaign
On Saturday, people in 181 countries came together for the most widespread day of environmental action in the planet's history. At over 5200 events around the world, people gathered to call for strong action and bold leadership on the climate crisis.
What is the Deal with 350?
350 parts per million is what many scientists, climate experts, and progressive national governments are now saying is the safe upper limit for CO2 in our atmosphere. Scientists have concluded that we are already above the safe zone at our current 390ppm, and that unless we are able to rapidly return to 350 ppm this century, we risk reaching tipping points and irreversible impacts such as the melting of the Greenland ice sheet and major methane releases from increased permafrost melt.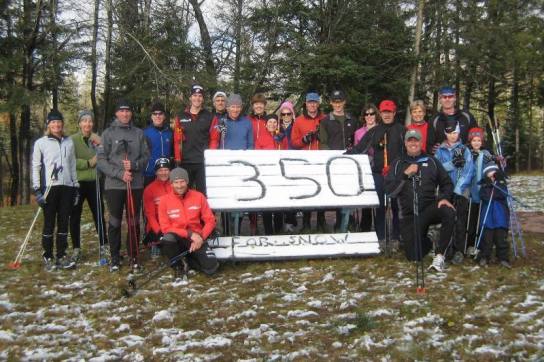 ActivEdge hosted Garrott and I for a CXC/Birke XC Ski Clinic and 350 Campaign
I tried to embed the show on this site, but I couldn't get it to work, So you should check out 350.org to view an amazing slideshow of some of the best '350' photos from around the world yesterday.
I have read on the web that some of the highlights from the day included a planet-scale game of Scrabble, with citizens in Wellington and Sydney forming giant human 3s, London and New Delhi enormous human 5s, and Quito and Copenhagen massive 0s. "The point was you had to put them together across global borders if you wanted to solve the puzzle," said 350.org media coordinator Jamie Henn. "Just like the climate negotiations set for Copenhagen in December.

Working on 'Dryland' Technique
The sport of cross country skiing depends on snow and we all need to do our part to make sure it continues to fall. As a cross country ski racer I travel frequently and sometimes by plane. Although jets are one of the fastest modes of transportation they are also amongst the most inefficient. One way I do try to limit my CO2 output as much as possible it by organizing my travel to be as direct as possible and to include carpooling, ride sharing, public transportation and hitchhiking. What changes can you make in your lifestyle to reduce CO2?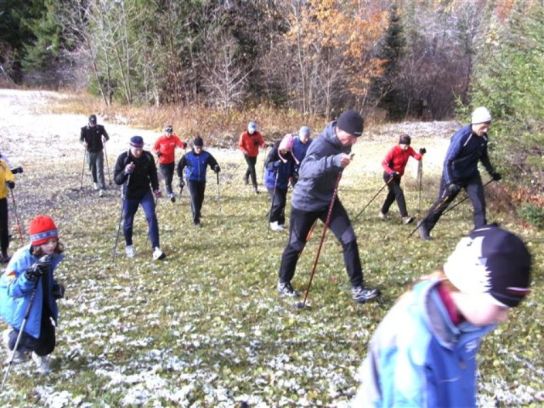 Getting ready for winter, snow and skis
---
---
Stone Dragons Win 6th Straight
Lake Superior Dragon Boat Festival
---
NEW FROM ACTIVEDGE
EXERCISE POSTERS
poster size: 11"x16" laminated for extra durability.
Great for corporate workplace and home office.
To place an order please contact jay tapper 218-393-8767
It has been a while since I have posted about training. Sometimes when that happens it is because things aren't going well and who wants to write or read about that? The past four weeks have been great. We are currently in the second week of our July training camp. Camp started off well with my best VO2 test ever; looking at Peak, AT, AeT and RQ. The 3000m time trial on the track is a fitness assessment that I have used for a while and I knew I was going to have a good one.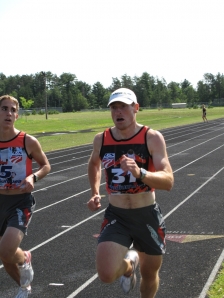 10 meters to go
My freshman year of college at Western State (7,700' elevation) I remember setting the goal of running a sub 11 minute 3000m. When the team ran the event in the spring I missed that mark by 3 seconds. Upset, the following week I went out and ran the time trial a second time just squeezing under in 10:58. I left the track happy, although certainly not with a time to brag about. Throughout college as my fitness improved I brought my time down to the low 10 minutes.
Since joining CXC I have run several tests under 10 minutes but not consistently. In the last year and a half I have worked allot on relaxation and my bio mechanics. Thanks specifically to Andrew Nelson, Bryan Fish and Jay Tapper for helping me improve in these areas. My fitness has improved but the changes in my technique have made the difference in my performance. I used to think that in something as simple as running, technique didn't matter. Now after running PRs in the 3000m every attempt since July 32008, I know that you can always become more efficient.
3000m Times
June 2008 (10:01)
July 2008 (9:42)
May 2009 (9:31)
July 2010 (9:12)
Matt Liebsch and I worked together to both set PRs. We switched off the lead every 400 meters and paced our effort consistantly and as planned. Matt ran a 23 second PR with a 9:17. We celebrated with a Blizzard at the Hayward DQ.
---